1. Daegu Baseball Stadium: 3d artwork by Cheol-min Kim.
Image Source: D-Focus Vray World Award: ArchViz Project February 2013
 Understanding certain aspects of architecture will enable the 3d artist to produce high quality 3d images with a sense of depth and character. It is also recommended to spend some time imagining the location at different times of day and with  different moods to appreciate the play of light as well as the flow of traffic around the building that may affect the shoot. So do not forget to work with the proper references. For example, to create a mood like Cheol's image above I searched images on Google such as "Rainy environment stadium".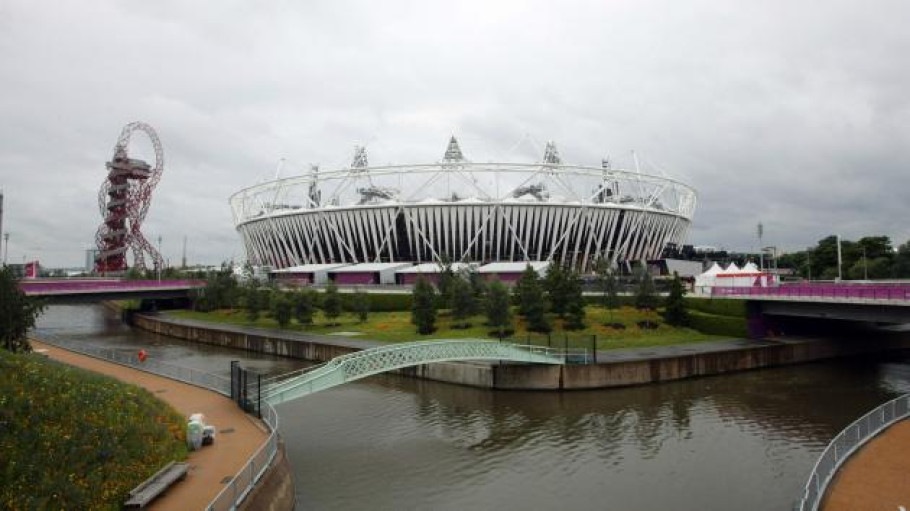 2. London Olympic stadium in Stratford.
Image Source: UPI.com 
Understanding composition is a fundamental skill required for 3d architectural photography to be able to incorporate enough of the building studied and get a nice result. It is also critical for 3d artists to understand the way certain building materials look when photographed under certain circumstances. Colors and textures can bounce light off them while others will absorb it and thus, understanding these effects will allow you to capture the shot at the correct time of day creating the "perfect" image.
3. Casa in unaPineta: 3d artwork by Alberto Yerga.
Image Source:  37d architecture office.
Playing  with  the camera's settings

.
Focal Length. You will probably want the widest angle of view. That means shooting with wide angle lenses, anything under 35mm will probably do fine depending on how close or far you are from your subject. A fish eye or wide-angle lens is ideal for this genre as it enables photographers to frame the entire building within its environment.
Stabilize Your Camera. Shooting an inanimate object means that you are not going to face many of the problems that other types of photography has with motion and light. It is quite possible to take your time and get as much light onto your sensor as is required to produce a great shot – it just might take a little longer and require a very stable camera. Get a decent tripod and don't be afraid to use it. This of course doesn't exist in V-Ray physical camera as we unfortunately are not able to catch it with our hands :) That means v-ray camera is always on a tripod.
Shoot Low ISO.  As we 're going to have a stable camera, we're not going to have any trouble getting enough light into our camera. We are free to go with longer shutter speeds something like between 5-10 and  minimize noise by shooting at a low ISO of 100.
Close the Aperture. We are free to close the aperture when our camera is mounted on a tripod and we have time to leave the shutter open. Shooting at smaller aperture allows us to minimize any lens errors too. Shooting at wider aperture can be good for artistic effects, but usually an architectural photographer will want a greater depth of field which means f-number 8 or above in most architectural situations. Do not forget that the values of both f-number and shutter speed depend on the type of lighting we use for our 3d scene.
Converging Lines. For the maximum amount of realism in architectural photography, it's best to keep vertical lines vertical. In v-ray camera we can achieve that easily by setting the vertical shift value. Sometimes this simply isn't possible  and sometimes it's simply not desirable. 
4. Hong Kong high rise  by Travlinman43's
Image Source:  Flickr
Camera Position. The well-known POV (Position of view) in 3d world is very important not only for creating an aesthetical 3d architectural visualization but for other reasons too. Let's have a look at Sergio Mereces' collection "Creations in Nature". Observe the way he shoots his buildings. Even if sometimes his camera is away from the subject, the final result is really good due to the carefully designed composition.  
5. Creations in Nature: 3d artwork by Sergio Mereces.
Image Source:  Sergio Mereces ArchViz
Playing  with  light, textures & shapes

.
Direction of light. This can increase contrast, shadows, textures and reflections. High levels of contrast can fool cameras into exposing the scene incorrectly, but shooters can easily overcome this by applying exposure compensation. When the sun goes down a new form of architectural photographer can emerge. To shoot a structure as a silhouette during sunset, position the architecture between yourself and the sun. Night shots can be very dramatic and atmospheric, too. Light plays a huge role in architectural photography. It interacts with the structure, creates plasticity, and gives depth. 
6. Huis Aant Lar: 3d artwork by James Burell.
Image Source: Jeames + Burrell 3d
Reflections. Add an extra dimension to architectural images and allow us to create a canvas on which the building can be playfully distorted. Urban environments are littered with a multitude of reflective surfaces, i.e. windows, water and wet streets, sunglasses, rivers, etc.
7. LAY YLB : 3d artwork by Jacinto.
Image Source: Metro Cubico Digital
Architectural images shouldn't just be aesthetic; they should also provide dynamism and movement. So play with the lines and consider the hierarchy of levels and areas. Architecture is built on the principle of symmetry, so capturing this symmetry will ultimately reinforce the subject matter and hopefully strengthen the composition. Alternatively, follow the principles of nature by including curves and circles in the form of shadows or reflections which can help soften the structure. 
8. Butterfly - The short film: 3d artwork by Thiago Lima.
Image Source:  ThiLima 3D
To sum up, we would like to pinpoint that theory is far from act. Many of the things we mentioned could be acquired in time with experience on the field of architectural photorealism. However, theory and act are interdependent and it would be a good thing to dedicate time to both of them since we wish to get better at what we love.
Bibliography.