A really powerful script that allows you to change the properties of materials or textures in your scene, selection or material editor.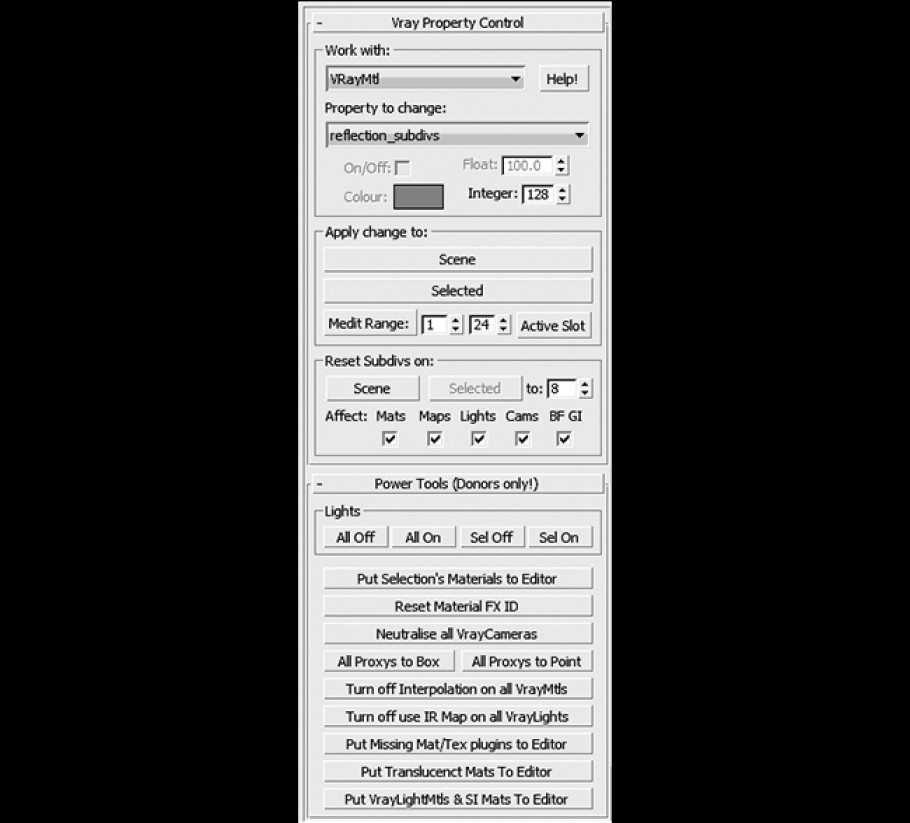 Features.
Current Version: 2.1
Works on Scene, Selection or Material Editor.
A subdiv reset for getting old scenes & models where you want them.
Support for all Vray materials and maps like VrayDirt, VrayHdri etc.
Support for all Vray Cameras, Lights, Modifiers & Geometry (donors only).
Support for native Bitmap texture, Color Correction Map and even 3rd party maps, MultiTexture, MultiScatterTexture and ForestMaterial (donors only).
Power tools (donors only):

Turn all/selected lights on/off
Put selection's materials to material editor
Reset scene's material FX ID's: resets all scene materials to 0 & disables the VRayMtl's "override material effect" option
Neutralise VrayCameras: Sets white balance to neutral and turns off vignetting on all scene cameras
Set all VRayProxys to box or point mode
Turn off interpolation on all scene VRayMtls
Turn off use IR Map on all VRayLights
Put any missing plugin materials/maps to the material editor for inspection
Put any translucent materials to the material editor for inspection
Put any VrayLightMtls or self-illuminated VRayMtls to the material editor for inspection
Installation.
Download the file and drag it into a 3dsmax viewport.
or run the MZP package from 3dsmax's menu:  Maxscript -> Run script.
Notes.
The script has been built for Vray 2.x and Max 2013 but should work with older versions.
The bitmap output rollout properties is not hooked up yet, I have this working and will release an update shortly.
Please let me know if you have any problems.
If you'd like to know about updates, please follow me on Twitter: @ollyspolys
Revision History.
Fixed the long standing "Unknown property: "subdivs" in Free Rectangle." bug
Added an auto update option for the script so you can always be up to date.
Subdiv reset now applies your BF GI setting (if checked) to all of your RPManager passes if installed.
Hooked up the bitmaptexture functionality. There are now 3 classes you can work on that should cover nearly everything: StandardUVGen for changing blur and tiling etc. StandardTextureOutput for changing clamp and output amounts etc and bitmaptexture for most other stuff like filtering. (Donors only)