Introduction.
Hello everyone! My name is Ewelina Lekka. I'm a Polish architect and 3D artist. I want to thank VWArtClub for giving me the chance to present my work. 3D Art is my big passion, the most of all I love creating warm exteriors with full of greenery, so my last project is just like that. I used Autodesk 3ds Max, Corona Renderer and Photoshop for the creation of this project.
Inspiration.
As I mentioned before, I extremely like creating green exteriors. For these renders my biggest inspiration was "Kekkila Green Shed" project. I love the mood as well as the beautiful location which looks perfect to me. I decided to show it on my own way and the great Corona Renderer helped me in this purpose :)
When I make renderings based on photos, I'm trying to make them as similar as the references because it's a really great challenge for me :)
Modeling.
Modeling part wasn't so hard. For making glass cabin I used simple Boxes and Planes and I converted them to Editable Poly. Before converting, I checked "Generate Mapping Coords" because I would like to have a right mapping on my boards, rafters and poles without adding UVW Mapping modifier. 
For making the landscape, I used simple Plane converted to Editable Poly. Then I added "Populate Terrain" script, some Noise, Smooth and UVW Mapping. I also added some "Push/Pull" effect to make this terrain more irregular like in real world.
Wood panels were created with  "Floor Generator" plugin.
I tried to create as many details as possible. This helped me with a more realistic final result. I worked on details of windows by adding some nails on the boards, hinges and a lock on the door.
Vegetation & Debris.
For creating the green environment (grass, bushes, trees and plants) I've used Forest Pack plugin. The most of trees are from Vizpeople free pack and the great free collection by Andrei Mikhalenko but there are also some models from Vizpark and Evermotion. I 've also used some assets from darstellungsart (leaves on bricks, ground and also a collection of bushes) which worked very well for this concept.
As I mentioned, I tried to work harder on details in this project and that's why I also added some pebbles, and old bark, leaves and small wood debris.
I was asking for 3d bricks models so many times. Those bricks are 3d scanned model from Quixel Megascan.
Materials.
Materials in this project are quite simple, but of course I tried to make it the most realistic as I can. Below are samples of woods, and glass. For some pot plants and ground I used atlases  and surfaces from Quixel Megascans which worked very well with displacement effect.
Lighting.
Lighting was one of the most important part of this project. I wanted to create warm, nice and a sunny atmosphere which creates positive emotions. For the lighting I used only HDRI maps. For every sunlight scene I used the same Free HDRI Map from Darstellungsart which worked better than I supposed. I only changed position of the sun for each sunny scene.
For cloudy and night scenes I also used one HDRI and the same HDRI map from Peter Guthrie. Night scene was made by simply using LightMix.
Cameras.
Below you can find my CoronaCamera settings:
Post Production.
Corona did an amazing job for me and thus the post production was a small process. I only changed levels and curves, just a bit. For a better effect I 've mixed some Render Elements as well.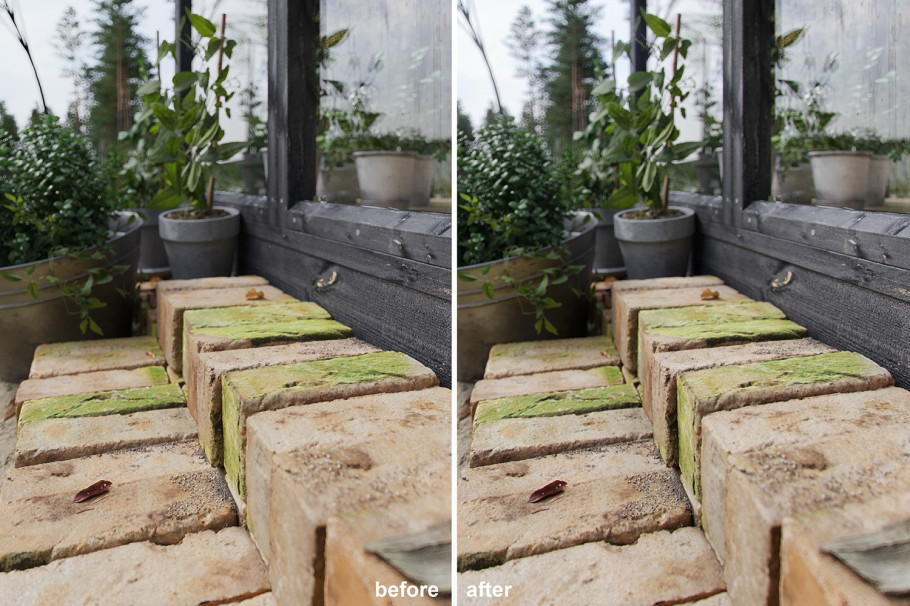 As you can see there isn't a big difference between "Before & After" images :)
Final Renderings.
Here all the images created for the representation of the scene.
That's all. Hope my article will be helpful for you! 
Cheers,
Ewelina!