My name is Maksym Samun and I am a 3d artist from Ukraine. Even I'm used in interior visualization, in this project I tried to experiment with an exterior scene for a first time. The goal was simple as always, I tried to draw something, pushing my limits and giving a maximum quality according my skills. Which level I finally reached I do not really know, but let's see together!
*Sponsor LEARNVRAY.COM.
Making of articles are always a great source of both education and inspiration! Reading them we are able to learn several tips and tricks which are useful for our evolution as 3d artists. But what about an education method from scratch?
LEARN V-RAY comprises various complementary activities and possibilities to ensure continuous and satisfying training.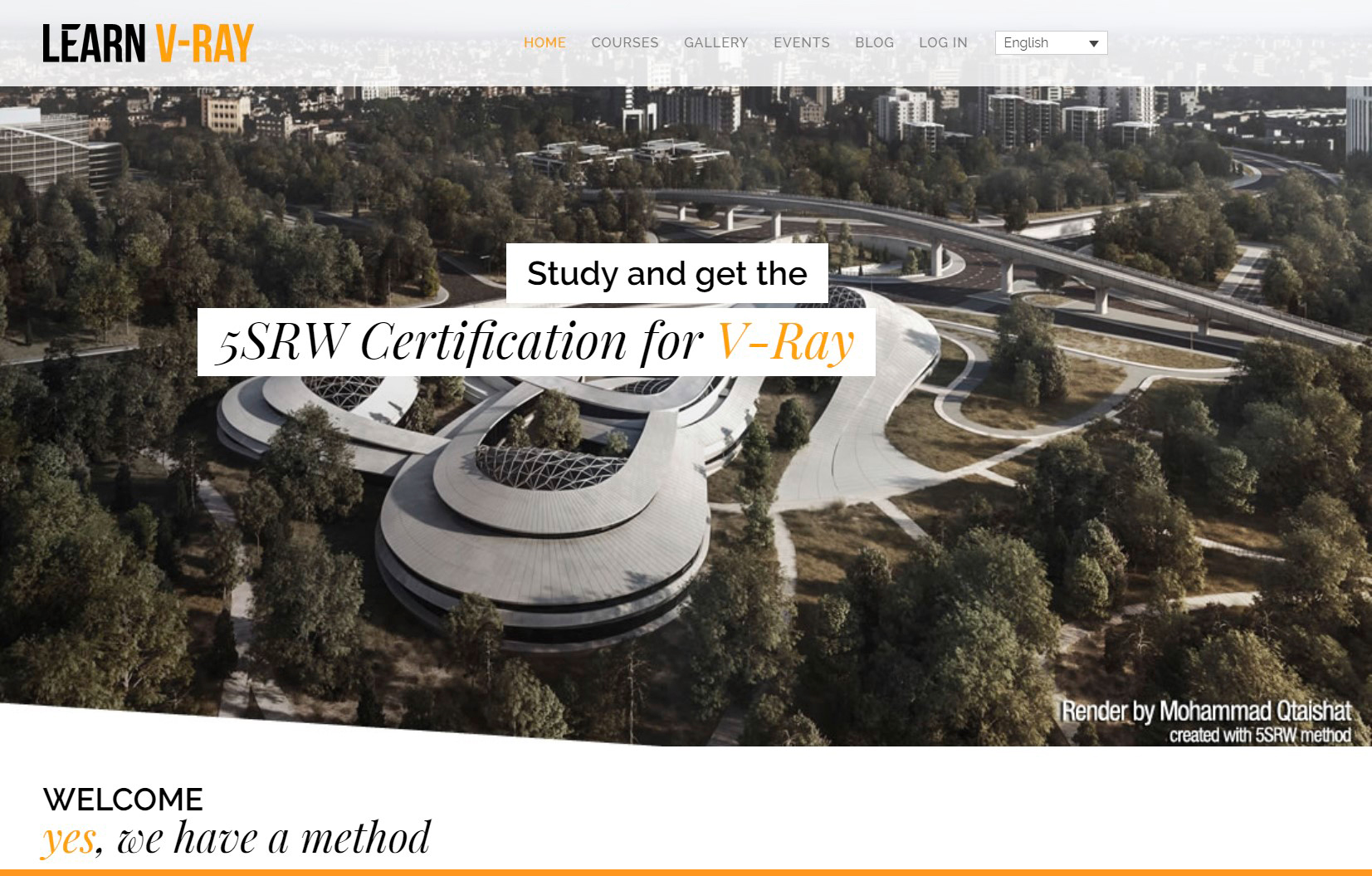 Inspiration.
There wasn't a specific task, just the outline... Perhaps a cabin in the woods with not well maintained vegetation, maybe some interesting atmosphere, yes, propably the great atmosphere which an old wood construction can offer us, this is what I need! Being in this mood and with these thoughts in mind , I went to Pinterest to find the appropriate references. Here are some of them:
As you can see, the first reference was the basis for the main angle, as well as most of the hut. By placing the image on viewport background, and modeled a simple model of a house, I put the camera.
Basic Modeling.
After setting the angle, it became clear what size the hut should be, where the porch will begin and where the plants will end. I started with the house simulation. In fact, it is a set of different-sized boards, collected together. I won't give so many details on it, as it is a just "Simple" poly modeling technique. You can find dozens of video tutorials on the web about how to model such objects!
It has been modeled by offset a line on an existing drawing, a well known technique as spline modeling.
All the fabrics in this project modeled using Marvelous Designer software.
In this Video tutorial you can follow a similar process. 


That's what happened after the cabin has been painted and completed by decoration.
Environment 

Modeling.

The terrain was created from a simple plane and by using push-pull faces. The result was loaded into ZBrush for grid alignment and then back to 3ds Max where a Displace modifier was used.

The puddles even they were simple to be built, were created by superimposing the plane into the ground, following the trace places which remained in the recesses. On all of them it was also applied the CoronaScatter with some leaves.

 

Vegetation was probably the most difficult and ambitious part of the project. I used 15 CoronaScater where 10 species of trees were appointed, 19 kinds of different, small vegetation and debris, leaves as well as some branches.

 

In order to control the distribution of plants on the surface, I used the PixPlane modifier the mask of which was added into the slot «Density». I'll Illustrate it on the example of grass and the lake:

 

The mask for the lake was painted in Photoshop.

 
Lighting.
Lighting is a very important part of my workflow, because it gives the sense of presence as well as life to a picture. But for me, it turned out to be perhaps the easiest part of the project. For the lighting of the scene, the HDRI map from Noemotion was used. After going through a number of options I finally chose 03-29_Sunset.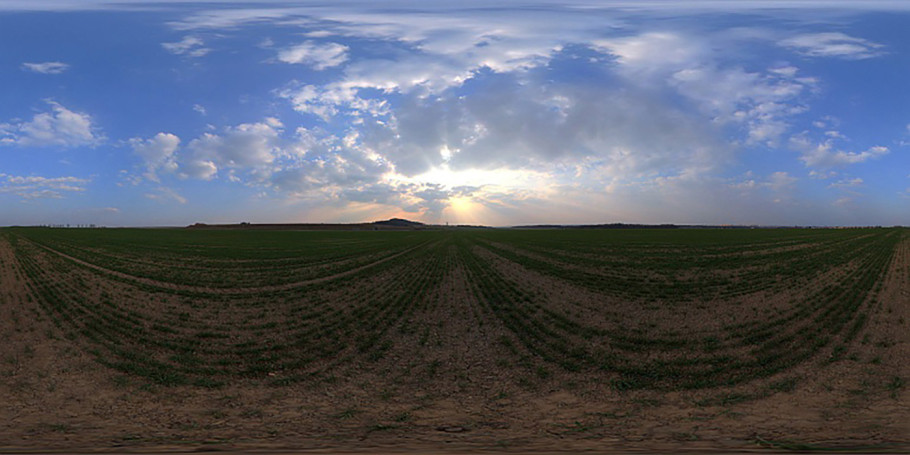 People often ask me how I achieve such an atmosphere in my works? So, I have found a simple and valid method, volumetric! All you need to do is adjust the density and color of the fog, and then copy this material in Global volume material roll in the surrounding environment settings.
That's what happened after the lighting setup.
Texturing.
I think that the material of both water puddles and small lakes is interesting enough for its bump texture and thus I'll show it on an example of the lake, which can be seen from the circular waves of leaves. To do this, I made a print-screen  in the form above. Using Photoshop I put some circles in places where there are leaves, filled with white background, and I finally added a little bit blur creating  a bump map.
Water puddles and lakes.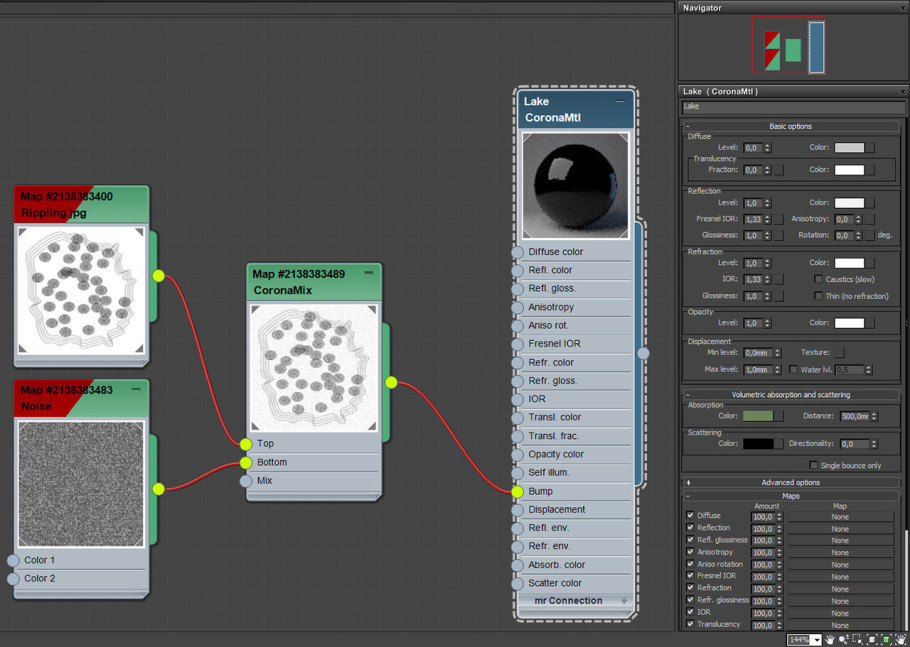 Planks.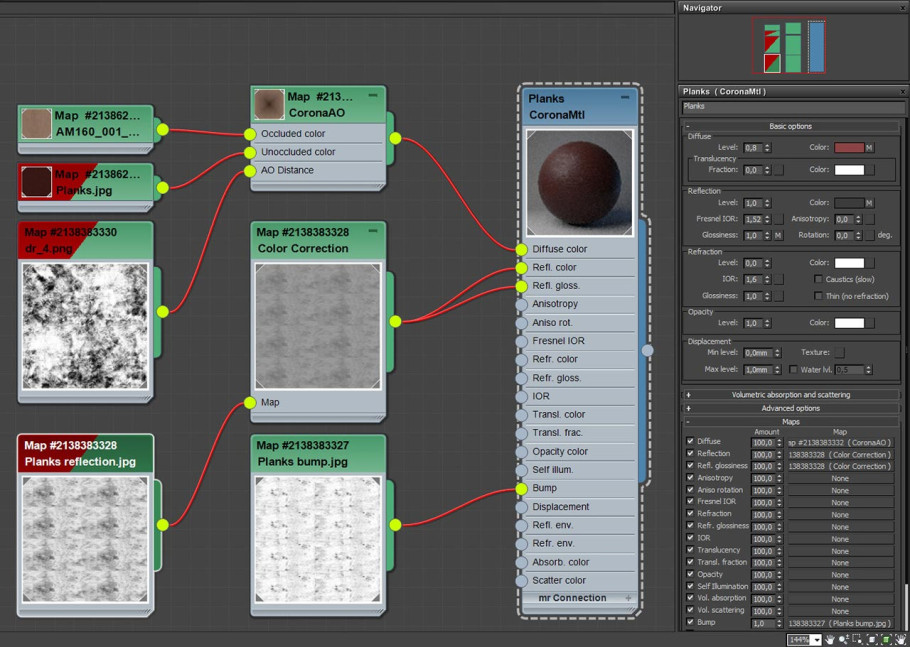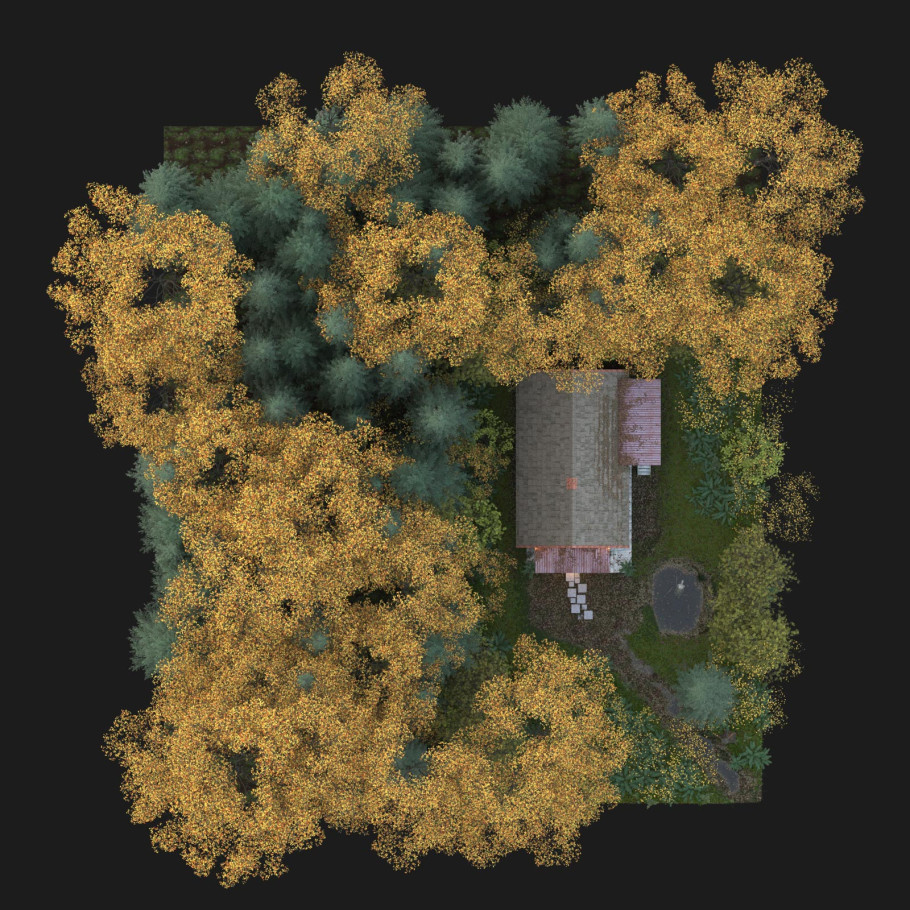 Post Production.
Post-production is minimal. The stages of production can be seen at the following video.